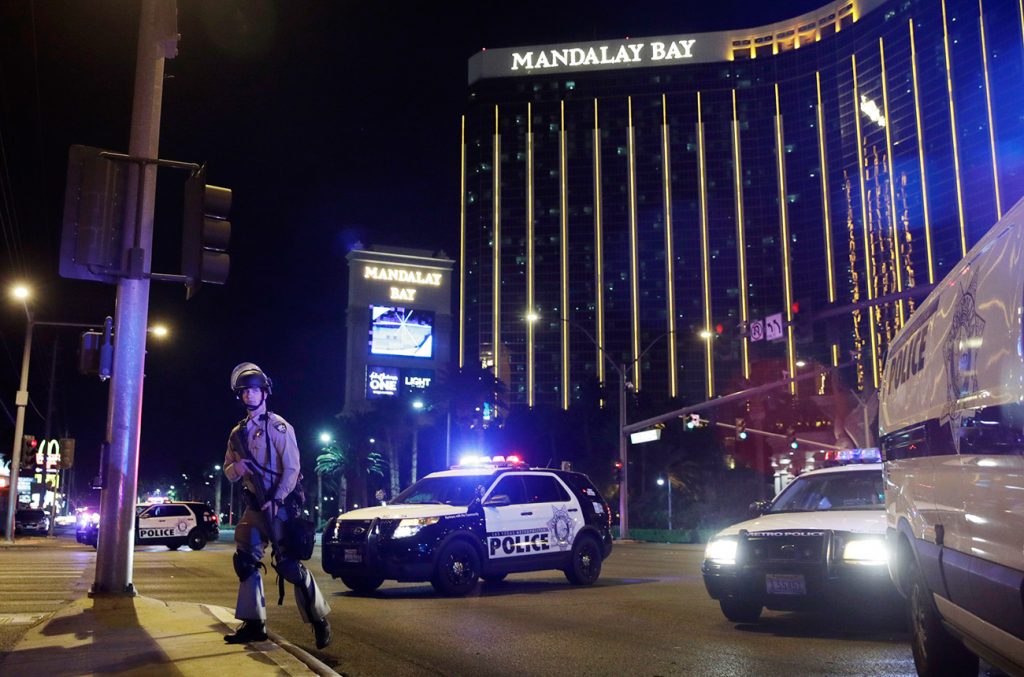 I awoke on Tuesday morning, 02 October to the sights and sounds of the tragedy of the mass shooting in Las Vegas. The sober sight of the organized, mobilized, and demonized murder of at least 58 and injuring more than 500 people attending a 3-day concert event in the city was paralyzing to me.
Many must have, like me, found themselves asking the "why" and "how" questions that we coming all too quickly. Why would someone do this? How could a lone individual organize and orchestrate this hatred? While I believe time will prove this was not the act of a single man we are still faced with the nagging questions.
The prophet Jeremiah wrote, "The heart (of man) is deceitful above all things and desperately wicked…" (Jer. 17:9) and we must never forget this truth. What we witnessed in Las Vegas was a desperately wicked act of a man separated from God. This pagan's heart developed and delivered destruction which has never before been seen in the United States. This was a tragedy beyond explanation or understanding. No one can really know what the heart of fallen man is capable of. Read the totality of what Jeremiah wrote from a more contemporary translation:
"The human heart is the most deceitful of all things, and
desperately wicked. Who really knows how bad it is?"
-Jeremiah 19:9 nlt
Someone just told me that we must address the elephant in the room – with the elephant being how should we feel about all of this? In the aftermath of this tragedy there are three things we should acknowledge.
1.  Someone has said, "I'm angry and I don't know what to do with my anger!" It's okay to be angry. Scripture tells us "Be ANGRY, and yet Do NOT Sin; Do not let the sun go down on your anger, and do not give the devil an opportunity." (Eph. 4:26-27 nasb) When we witness the sinfulness of humanity the Godly response is to be anger at the sin, but we must move from anger to anguish. This evil was the result of the satanic influence on fallen humanity, and sin should anger us.
2.  Even in the midst of this tragedy we can see some wonderful things which took place in people's lives. Focus with Gratitude on the Good which transpired. We have heard multiple testimonies of the people who worked together to care for the injured. There have been hundreds of stories about people, without any regard for their own safety helped and cared for others. From first- responders to average citizens we were able to see a bright spot in the midst of humanity. Be grateful that the tragedy was not even greater. I know it's hard but the Bible says, "Weeping may last for the night, but a shout of joy comes in the morning." (Psalm 30:5 nasb)
3.  Remember the Brevity of life. None of us are promised tomorrow therefore we must be "all-in" every day of our lives. I hope that you will see each moment of every day of our lives as a gift from the Lord and use it for His glory. Embrace every day as an opportunity to impact others and share with them all that God is doing in your life.
Only eternity will reveal the wonderful things that God is going to do in and through the lives of so many people through this horrible event. Even in tragedy God is revealing Himself to us. If you don't know Him, it is my prayer that you will turn, in faith to Jesus Christ, the Author and Finisher of Faith. It is true, "Weeping may last for the night, but a shout of joy comes in the morning." (Psalm 30:5 nasb)