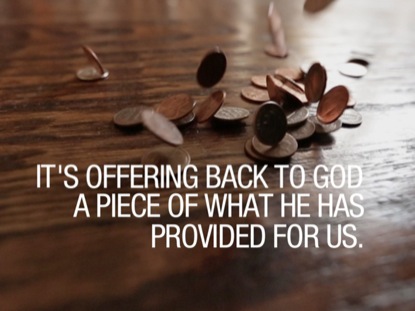 Too often we think of our gifts to God in terms of time, treasures, and talents. But as I was reading my devotional book ("Prayer, Praise, and Promises" by Warren Wiersbe,) this morning, I was once again reminded that what God wants most from us are those things that He has NOT given us. Wiersbe wrote.
"When you put your offering in the plate, are you giving God something that isn't already His? Who gives you the strength to work? God. Who protects you to and from work? God. Who gives you the skills to work? God. Therefore, when we bring material offerings to Him (and He wants us to do this), we are only bringing what He already has given us."
In our frail understanding of spiritual things we often fail to grasp the truth God's ownership of everything. One of the most fundamental truths of life is this; God is the owner and I am simply the steward of everything in my life. There is no amount of money that God needs from us and there is no amount of time that God needs from us. All of this already belongs to Him!
In Psalm 50:14 the writer proclaims, "Make thankfulness your sacrifice to God, and keep the vows you made to the Most High." Do you see that? What God desires most from us begins in our hearts. It is our calling out to God in thanksgiving and following God with our obedience. When we begin the day with a heart of thankfulness to God for who He is and what He does we are giving a pleasing offering to Him. What are some practical ways we can do this?
– First, we should be aware of His Presence. As I was driving in to my office this morning I was keenly aware of the absolute presence of God that I could see all around me. The crystal clear sky, the beautiful trees, and the canvas of flowers were all a reminder of the creative presence of God. All I could do was praise Him for His presence.
– Secondly, we should acknowledge His Protection. God kept me safe and secure on the drive into my office. Although there were fender-benders along the way this morning none of them involved me. We never really know how close we are to an accident every minute. Awareness of God's presence causes acknowledgement of His protection from all manner of evil. If somehow we were able to get a glimpse into the heavenly we would be overwhelmed at all the potential attacks coming our way, but God is constantly protecting us from these assaults.
– Third, we should affirm His Provision. Everything we have is from the good hand of God. Our awareness and acknowledgement of this makes us sensitive to honor Him with praise and thanksgiving. These three realities cause us to accept the responsibility of stewardship with all of life.
– Finally, we should abide in His Power. Too often we operate from a position of fear rather than faith, which is nothing more than refusal of God's power in our lives. Once we realize the absolute love that God has for us we are better equipped to know that we can face each new challenge in the Power of God, displayed in us through the Holy Spirit who is abiding within us.
I am fully convinced that all we can give to God is an attitude of constant praise and continual obedience. Let's live our life this way today and see all that our Father continues to shower upon us.