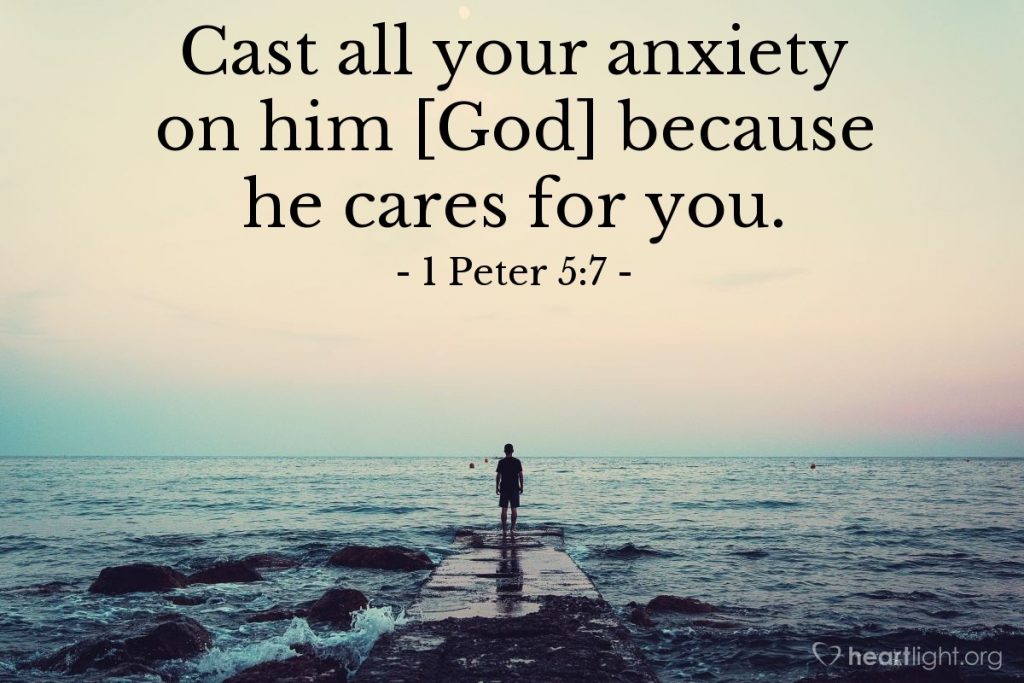 42 years ago TODAY, Mary said "I do!" It's been a great journey and she is still today my sweetheart.
In just a few short days a team of evangelists will leave the comforts and normal of our homes and families and set out on an intense missionary/ministry project to Ghana, West Africa. Although all of us have been going to West Africa for many years, each trip brings with it new challenges and opportunities. None of us have ever been even close to the areas we are scheduled to be in this time – and that is always cause for anxiousness.
Now, I know that the scripture verse for today (from bible.com) gives me admonition about this, where Peter writes,
"Cast all your anxiety on Him, because He cares for you."
–1 Peter 5:7
A part of our team's daily readiness drills is in doing just this, because nearly everyone has at least a hint of fear of the unknown (FOTU). Now just what enables us to face and deal with this as a ministry team?
First and foremost is in the face that we all know that we are instructed, more than once in the scriptures, with a simple two letter word … G O. Jesus explicitly gave the directive for all believers to go into all the world and preach the Gospel. In fact, the last words of Jesus with those around him before his ascension into Heaven was very direct:
"It is not for you to know times or epochs which the Father has fixed by His own authority; but you will receive power when the Holy Spirit has come upon you;
and you shall be My witnesses both in Jerusalem,
and in all Judea and Samaria, and even
to the remotest part of the earth."
–Acts 1:8
Thus, we know that we are commanded to go. Even a cursory reading of the New Testament shows us that Jesus was constantly meeting new people and that is what I hope we do while we are in Africa. Meet new people because all people everywhere need to know of the love of Jesus. I hope you will pray for us as we go.
Another thing that brings us calm is watching the many people in the fishing villages in Ghana. I watch as these people, both young and old work in the business. Old rickety boats take the huge nets out off shore and then a long line of people begin to drag the nets back to shore in hope of a catch. More times than not the nets are almost completely empty, but the process starts over again. It reminds us that the catch is there, we must purse it.I think this same truth is for you and your team and students. We must be consistently going out to meet new people. While it is vital that we cultivate and deepen our current relationships with people, we must not neglect the importance and value in identifying and starting friendships with others we have yet to meet. If you have anything of value to share with others you must become more comfortable with meeting and potentially developing new relationships.
When Jesus called everyone of his disciples with was because he met them in their own environment and encouraged them to join him. Each person was an individual in whom Jesus saw potential and he took the risk of meeting them.
Listen to this story:
One day as Jesus was preaching on the shore of the Sea of Galilee,[a] great crowds pressed in on him to listen to the word of God. 2 He noticed two empty boats at the water's edge, for the fishermen had left them and were washing their nets. 3 Stepping into one of the boats, Jesus asked Simon,[b] its owner, to push it out into the water. So he sat in the boat and taught the crowds from there.
4 When he had finished speaking, he said to Simon, "Now go out where it is deeper,
and let down your nets to catch some fish."
5 "Master," Simon replied, "we worked hard all last night and didn't catch a thing. But if you say so, I'll let the nets down again." 6 And this time their nets were so full of fish they began to tear! 7 A shout for help brought their partners in the other boat,
and soon both boats were filled with fish and on the verge of sinking.
8 When Simon Peter realized what had happened, he fell to his knees before Jesus and said, "Oh, Lord, please leave me—I'm such a sinful man." 9 For he was awestruck by the number of fish they had caught, as were the others with him. 10 His partners, James and John, the sons of Zebedee, were also amazed.
Jesus replied to Simon, "Don't be afraid! From now on you'll be fishing for people!"
11 And as soon as they landed, they left everything and followed Jesus.
We must all realize that we are on a fishing expedition every day and we never know what the next cast of the net will provide. When we go to Africa or you go out in your areas of influence we are always fishing. I hope you will go out and cast your nets today.