There's Always Another Mountain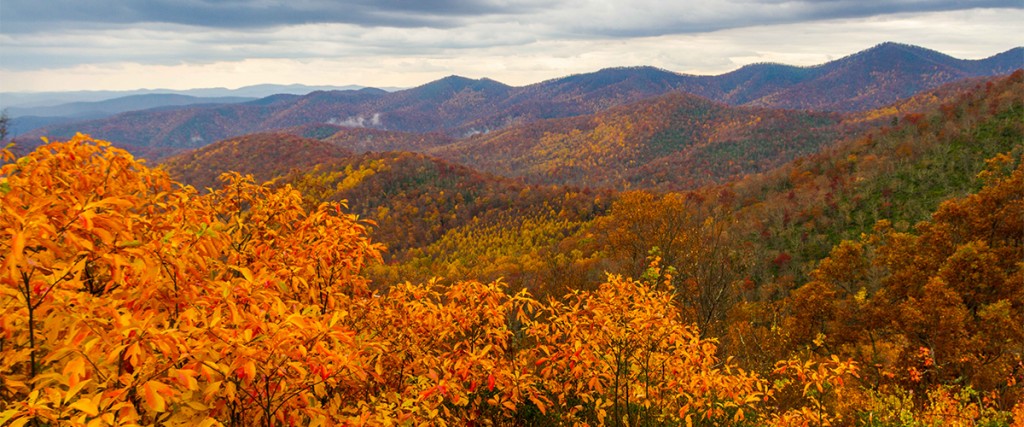 This past weekend our family made a day trip to the North Carolina Mountains which included picking apples in a beautiful orchard.  While driving along the Blue Ridge Parkway our youngest grandson asked, "Can we stop so we can look at the lovely leaves?"  This five-year old was certainly observant because the views were incredibly beautiful.  The mountains were ablaze with color.  As we continued the drive to the summit each stop seemed to reveal more than the last in terms of spectacular views of God's handiwork.  At one point, our eight-year old exclaimed "It's really easy to talk to God here because we are closer to heaven!"  I paused and thanked God for the work that He is doing in these boys' lives.
As we would stop at the ridge of one mountain I would point the boys toward our ultimate goal of Mount Pisgah in the distance.  "How do we get there?" they would ask and I would explain to them that we had to travel down the mountain in order to begin the assent to the next.  Their response of "I don't like going down into the valley" made me begin to think.
None of us like being in the valleys of life, but they are necessary if we are going to make it to the next Summit.  Life is less about climbing A mountain and more about negotiating the mountain ranges.  There will be mountain top experiences in our lives but there will also be some valleys.  We much each decide if we are going to stay put or keep going.  Life is a marathon not a sprint.  Stay diligent to keep walking.  I have learned from the numerous trips I've made to Africa that some of the most challenging moments in travel come when we are walking through the tall grass in the valleys.  The constant reminder to me is for me to keep moving less the enemies overtake me.  When you get to the weeds and tough terrain of the valley floor keep moving ahead.  Remember it is in our times on top of the mountains that our character is developed.  It is in the valleys that our character is displayed.  Who we are on the mountain top will always come out when we are in the valley.
Eventually our family arrived at our intended destination and so will you as long as you keep going.  Every step along the way is a part of the exciting journey.  Take time today to thank God for the joy of the journey.