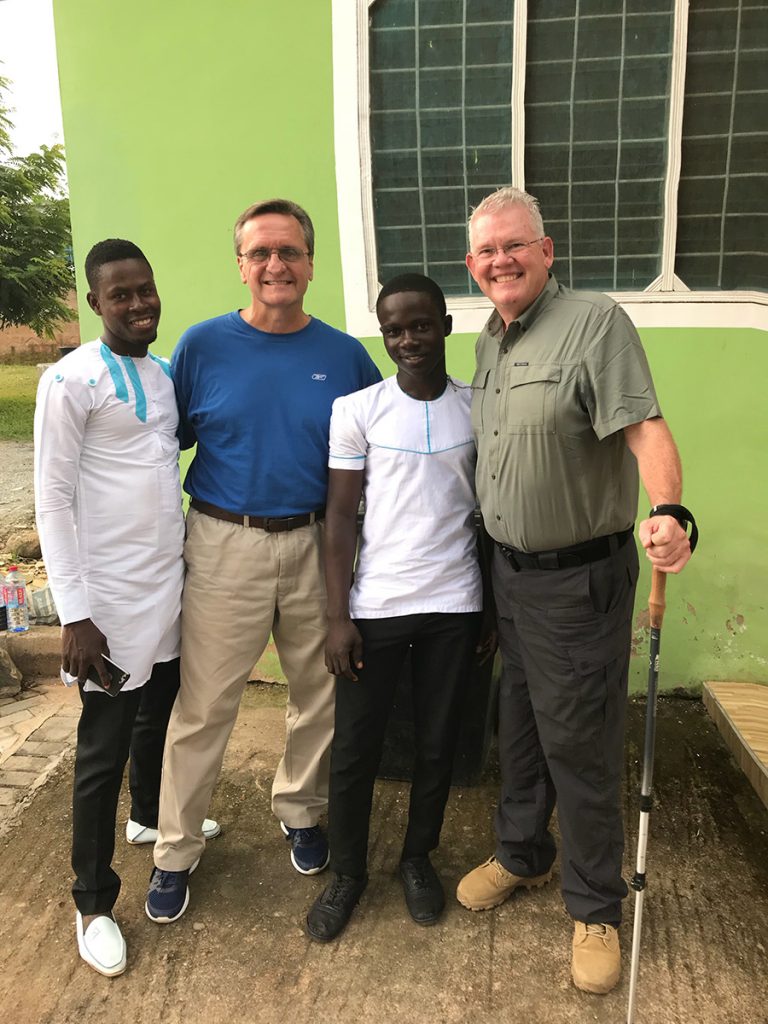 Sundays are always special in Ghana.  After a full week of intense field ministries here our teams are grateful for Sunday.  We can sleep a little later, eat a little slower, and simply enjoy of time together.  We Americans gather for a time of fellowship, devotion, prayer, (and even singing sometimes) while our Ghanaian counterparts travel back to their home churches to participate in local church ministries.  Such is a day in the life in Ghana.  As I sit here and think on the past week, I am reminded that today is a day to …
 
Reflect on what God has been doing all along. One of the greatest truths for Christians to remember is that God is always a work around us.  Even the months, weeks, and days leading up to our arrival in Ghana, God was allowing (and orchestrating) events which would guarantee greater glory to Himself.  Think about these things.
Pastor James McLean underwent medical procedures and surgeries that have now opened arteries in his heart that have returned energy and vigor to him.  My knee surgery has caused our guys here (and all of us at home) to pray more intently and participate more fully in the preparation for the ministry.  Even my wife's auto accident on the day of our departure was used by God to get all of us focused on His absolute power, protection, and provision in all of our lives.  As National Director, Sammy Lartey said yesterday,
"All the attempts by Satan to discourage and distract us
have fallen short, because God had bigger and better plans."
Are you reflecting today on all that God is doing in your life?  This is also a day to …
Rest in the absolute plan of God.  Remember, we make plans but God accomplishes them. Someone said, "We all have a plan until we get punched in the gut."  We should always be busy in the planning of our days and lives, but as the Word of God says,
"Trust in the Lord with all your heart and
lean not to your own understanding
but in all your ways acknowledge Him,
and HE will make paths straight."
(Prov. 3:5-6 paraphrased.)
We can rest confident that God is in control … no matter what.  The idea of rest is not just the absence of exertion, but more importantly it is the awareness of provision and providence.  I tend to believe that if you pause, right now, and just contemplate the wonderful ways God has been leading and directing you it will bring you to a place of wonderful rest.  Today is also a day to …
Realize that the best is yet to be!  Too often we lament the things that have gone wrong in our lives.  It is certainly human nature to moan and groan about some past failure, but rarely (if ever) does this produce good.  I think it is a good idea to learn the lesion of glancing and glaring.  It is most productive to glace at the past but glare at the potential.  As we look forward we are more aware of what God can do than at what we have done.  Paul, the Apostle wrote, "One thing I do: forgetting what lies behind and reaching forward to what lies ahead, I press on toward the goal for the prize of the upward call of God in Christ Jesus." — Philippians 3:13-14 (NASB)
"Glance at the past but glare at the potential"
As each of us develop the discipline to keep moving forward, learning from the past, but leaning toward the future we will begin to see more fully the good hand of God in our lives.  I urge you today to realize that your best days are yet to come.
Our teams here are looking forward to the coming week of mission and ministry.  Please continue to pray for us as we go into schools, hospitals, public squares and the like to share with all who will hear the marvelous message of Jesus Christ.  On behalf of our Ghanaian colleagues and for Jeff Andler, Craig Barker, and James McLean, I am
Gratefully yours,
Roy D. Mason