The Responsibility of Graciousness
Since my injury on 28 July, God has been teaching me a great lesson that I have not previously learned. For years I have been teaching the basics of the 3G's of Christian living, i.e. Grateful, Gracious, and Generous. These lessons have been received well by so many people for which I am grateful.
During these long days of recuperation – confined almost exclusively to my home in NC, I have learned a great deal about myself, some of which I am not proud. I have been overwhelmed at the amount of attention and affection people have been showing me. It seems like every day the doorbell rings and a package is on the front porch from a friend around the country. In addition to this there are visits, phone calls, cards, text messages, and voicemails from people around the globe. It's overwhelming.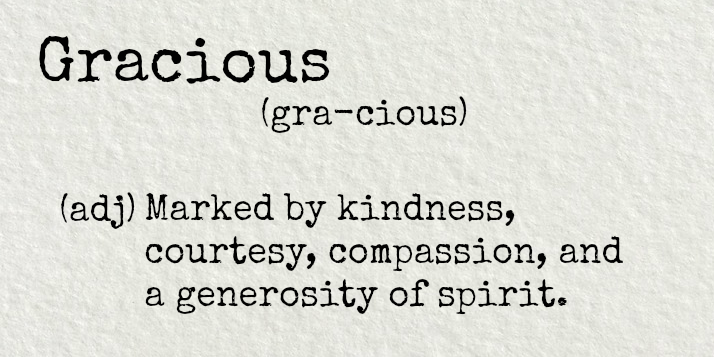 I never really realized this before, but I am not a gracious recipient of all this attention. I feel a bit embarrassed that all this attention is being shown to me. I did nothing to deserve this outpouring of love. All I did was clumsily trip on the deck and injury myself. It seems weird to get all this attention because of my carelessness. While I am extremely grateful for every expression of love, I have to tell you I have not always received it well.
The Lord has been teaching me a great lesson about being gracious in receiving the love and affirmation of others around us. I realized that if I did not genuinely receive all of this well, I was really robbing others of the joy they should have in their expressions of grace, gratitude, and generosity.
I have come to understand that it is the love of God that is abiding within the hearts of these dear friends that motivates them to share this love with me. When we give love and concern to someone else it is absolutely the sharing of God's love in us and when we receive these gifts we are in a literal sense receiving Christ from them. I am really receiving the gift of God that is within each one of them. God forbid that I respond to His love in any way other that in grace!
I would encourage you to read and meditate upon Phil. 4:10-20 and you will see, with me, the grace of both giving and receiving. Paul had this kind of relationship with the church and in the end he made this great proclamation of faith:
"I rejoiced in the Lord greatly that now at length you have revived your concern for me. You were indeed concerned for me, but you had no opportunity … Yet it was kind of you to share my trouble … Not that I seek the gift, but I seek the fruit that increases to your credit. I have received full payment, and more. I am well supplied… And my God will supply every need of yours according to his riches in glory in Christ Jesus. To our God and Father be glory forever and ever. Amen." (from Phil. 4:10-20 ESV)
As you can see both giving and receiving were important to Paul and apparently he graciously participated in both. Likewise, I joyfully am learning this joy. Thank-you so much for your continued love and concern for me.
I am scheduled to get the leg cast removed and start rehab on 13 September 2017. To God be the Glory!