"One-A-Week Challenge" – Week 30
"Every word of God proves true; he is a shield to those who take refuge in him."
– Proverbs 30:5, esv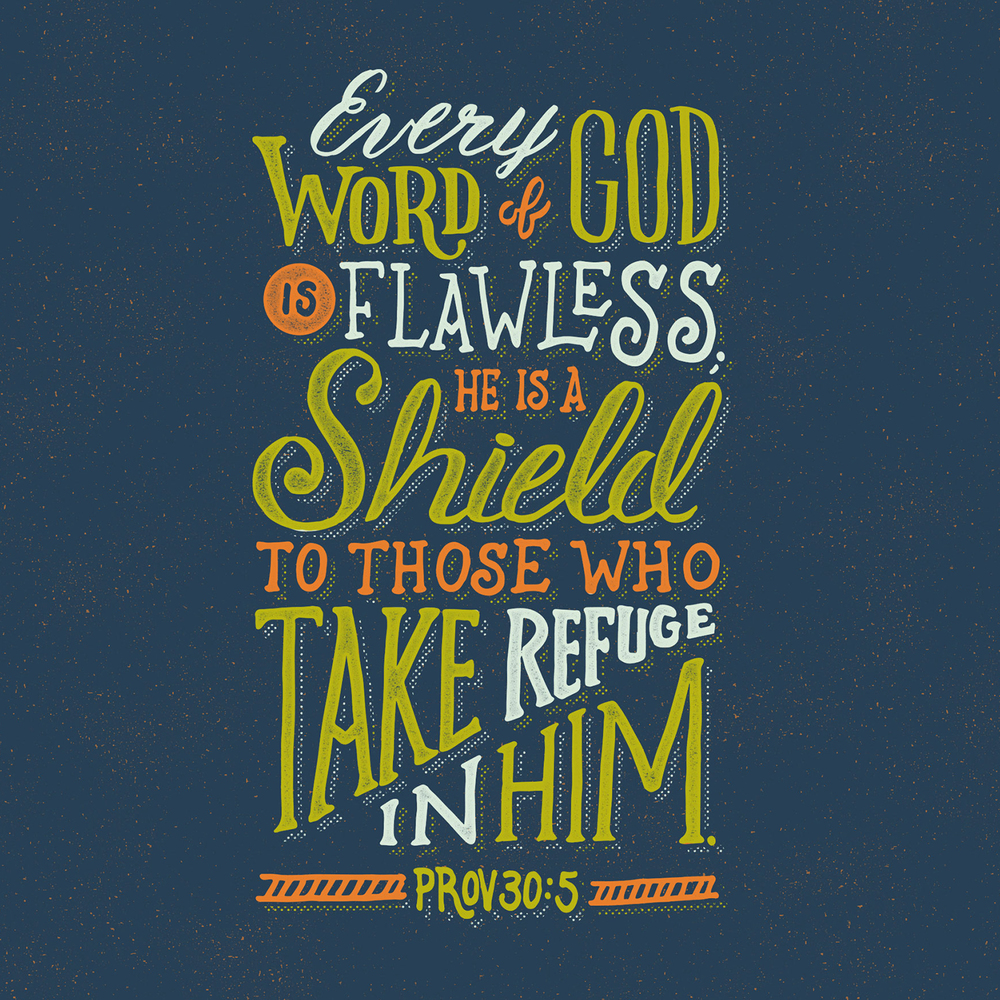 I like to read.  I enjoy a variety of genres of writing but my favorite casual reading comes in the form of historical fiction.  While that sounds contradictory it is not.  I like books that are set in a historical context, but weave a story with characters which are fictional.  My personal favorites are military and special ops books.  While I am careful not to read them as battle proven, I enjoy the exercise.
The writer of Proverbs gives a stern warning to all who wish to mishandle the Word of God. Solomon writes that every word of God is "true or pure" by using the verb meaning "to refine or test. This word describes the purifying process of a refiner, who heats metal, takes away the dross, and is left with a pure substance."
The word of God can be trusted and can always be put to the test.  Regardless if we study the Bible as a whole or by individual parts we will see that it is perfectly consistent in every way.  While the Bible is not a work of history exclusively, when it speaks of history, it does so without error.  It is not a book of science, but when it addresses scientific issues, it is true.  When we read the Bible we find it is inerrant, infallible, inspired, and infinite.  It is the Word of God.
Far too many people approach the Bible with a bias toward it containing error.  These skeptics have too low a view of God and too high a view of humanity.  When the Bible comes in conflict with their own personal positions they opt for their own understanding rather than accept that God's Word is perfect because it is God's revelation of Himself to mankind.  As the Baptist Faith & Message reminds us …
The Holy Bible …has God for its author, salvation for its end, and truth, without any mixture of error, for its matter. Therefore, all Scripture is totally true and trustworthy. It reveals the principles by which God judges us, and therefore is, and will remain to the end of the world, the true center of Christian union, and the supreme standard by which all human conduct, creeds, and religious opinions should be tried. All Scripture is a testimony to Christ, who is Himself the focus of divine revelation.
I hope you realize that as you are working on memorizing verses of scripture you are pouring into your heart and mind the very words of God which always point to the Lord Jesus Christ who is our shield in all of life.  The Bible does not provide our salvation, but it does tell us the way to faith and belief through Jesus Christ.
From Genesis 1 through Revelation 22 we have the pure, true, tried, and tested Word of God that shows us the Lord Jesus.  It's all true!