"One-A-Week Challenge" – Week 15
"Do not be deceived: God cannot be mocked.
A man reaps what he sows."
–Galatians 6:7 NIV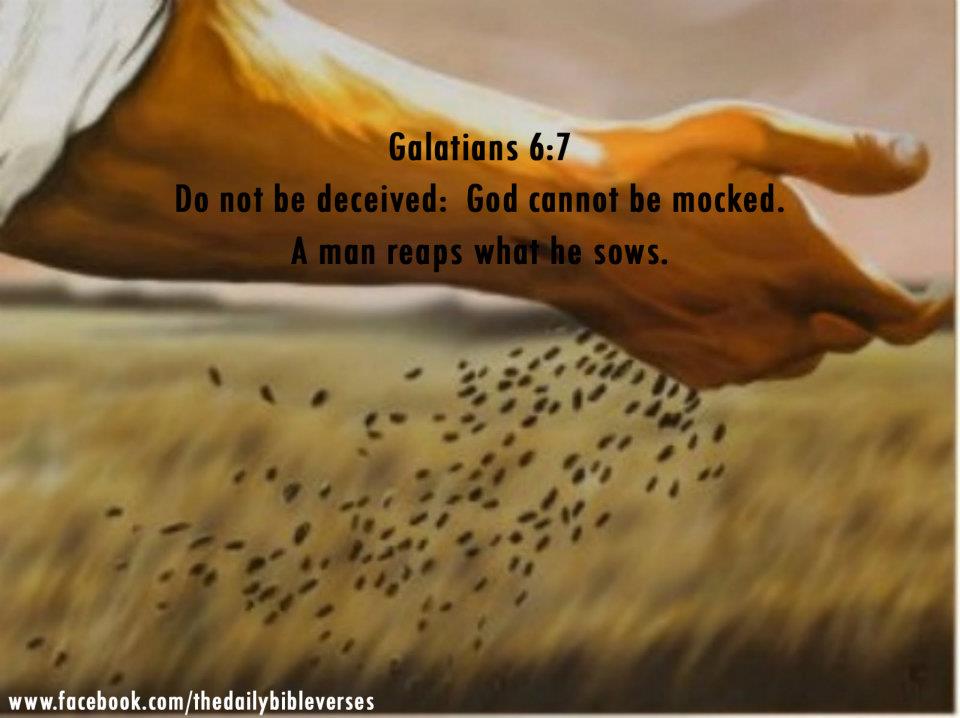 When Paul says, "God cannot be mocked" he uses a word that literally means "to turn up your nose at."  Few of us would readily admit that we have turned our nose up to God, but whenever we choose to reject His word that is exactly what we are doing.
We are 15 weeks into our "One-A-Week Challenge" where we have been attempting to memorize a verse of scripture a week.  At the outset this seemed daunting, but as time has marched on I have been blessed to hear from many of you telling me this has been encouraging and exciting for you.
Each week we are looking at the Word of God.  Every word of God is completely true and trustworthy.  The surest way to know the God of the Word is to know the Word of God. Not everything that we hear from the world is true.  There are now, as there have always been, false and satanic teachers who impose their views in juxtaposition to God's truth.  I hope you remember that "Truth is not a position — Truth is a Person."  Jesus boldly proclaimed "I am the way, the truth, and the life." John 14:6a  Elsewhere Jesus prayed, "Sanctify them in the truth; Thy word is truth."  John 17:17  The exact opposite of truth is deception which is a lie.  Remember, Satan is the father of lies. Although he has no power to defeat God he is skilled at lying and convincing the weak that the lie is preferable to truth.
One of the salient truths of life is summed up thusly: "Whatever is in the well, comes up in the bucket." Our life becomes a living testimony to whatever we pour or sow into our lives.  One English writer observed, "What strikes me more and more each day is the permanence of one's early life, the identity between youth and manhood. Every habit, good and bad, of those early years seems to have permanently affected my whole life. The battle is largely won or lost before it seems to begin."
This proclamation of Paul from Galatians is one of the divine laws of scripture.  Even the redeemed are not immune from this law. While it is true that we will never reap the full consequences of our sin, we can still reap the heartaches, headaches, wounds, and shame of our actions.  Remember, when God convicts you of your sin, you are being reminded by the Holy Spirit that you no longer have to continue in those ways.  Receive the rebuke as an opportunity for repentance.
The bible no where teaches that we can be sinless, but it does tell us that we can sin LESS.  Be careful what you sow.  Live in the Light of God's word and sow those things into your life that is a reflection of Jesus Christ.