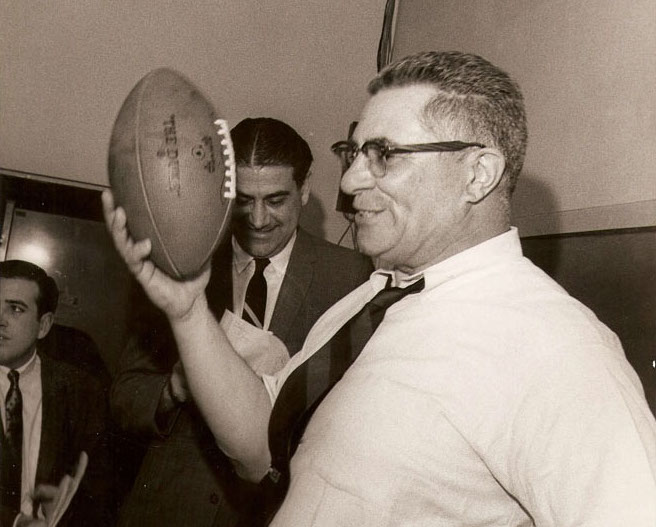 At age 45, Vince Lombardi became a head football coach in the NFL for the first time in his life. It was 1959, and he had the challenging task of leading the Green Bay Packers, a team that had only won two games the previous season. He clearly had his work cut out for him.
But Lombardi wasn't going to let last year's record shape his expectations. This was a new season, after all—just as 2018 can be a new season for each of us today!
When the discouraged group of players gathered for their first preseason meeting, I'm sure they wondered how their new coach was planning to turn things around. Coach Lombardi entered the locker room and stood silently for several seconds. Holding out a football in front of these men, he spoke one of the most famous quotes in football history:
"Gentlemen, this is a football."
In just five words, the new coach had communicated his philosophy for the team's success: They were going to start with the basics and make sure to execute the fundamentals. You see, the Packers had been losing, not because they lacked talent, but because they'd forgotten the basics.
Far too often we are looking for ways to get bigger in our business and ministry than last year. I really believe we need to realign our thinking and consider simply "how I can be better in 2018."
In Matthew 22, we have the account of the religious leaders of Jesus' day who were absolute "Brainiac's" in religious law, trying to trip and trap Jesus with this question, "Which is the most important commandment in the law of Moses?" Jesus responded with the basics:
"'You must love the Lord your God with all your heart, all your soul, and all your mind.' This is the first and greatest commandment. A second is equally important: 'Love your neighbor as yourself.' The entire law and all the demands of the prophets are based on these two commandments." (verses 37-40)
This certainly stands in conflict with our way of approaching the challenges of the New Year. I hope we will all simply be better at the basics than we were last year. I am committed to entering 2018 with five basic words:
Faith
FOCUS
Forgiveness
Fellowship
Forward
We can all be tempted to get busy with other things and lose sight of the basics that have given us the measure of success we have today, but I hope we will remember the words of the Apostle Paul …
I don't mean to say that I have already achieved or reached perfection. But I press on but I focus on this one thing: Forgetting the past and looking forward to what lies ahead, I press on to reach the end of the race and receive the heavenly prize for which God, through Christ Jesus, is calling us. Philippians 3:12-14 (NLT) paraphrased