"You are from God, little children, and have overcome them; because greater is He who is in you than he who is in the world." –1 John 4:4 nasb
[Wednesday, 28 February 2018– Ho West General Area, Ghana] Each new project introduces us to areas for improvement. Even after 17 years of ministry here we continue to fine-tune and adjust strategies and tactics on the ground. According to our National Director, Rev. Sammy Lartey, our Director-in-training, Rev. Ebenezer Agbleze has been responsible for nearly 80% of the preparation and training for this particular project. With this being his first such assignment, we can certainly say that he has done a good job. This is no small part due to the excellent leadership that Sammy has provided for him.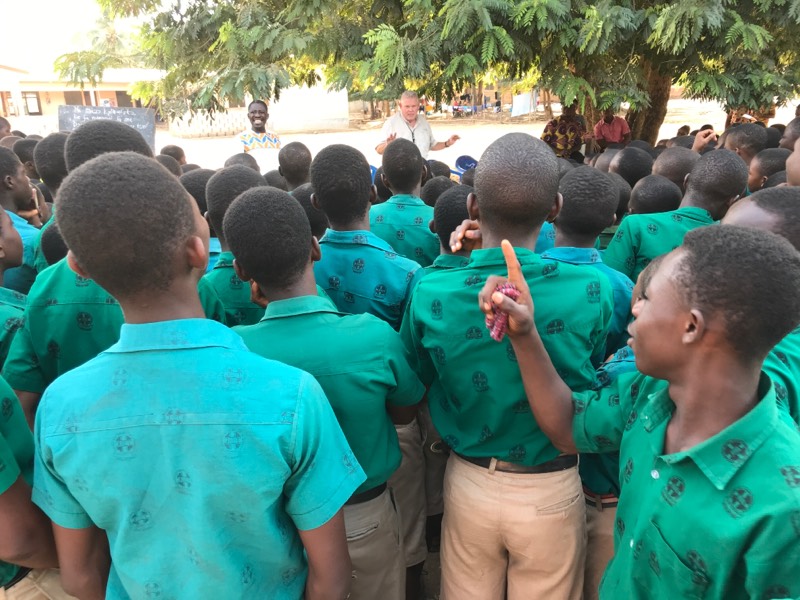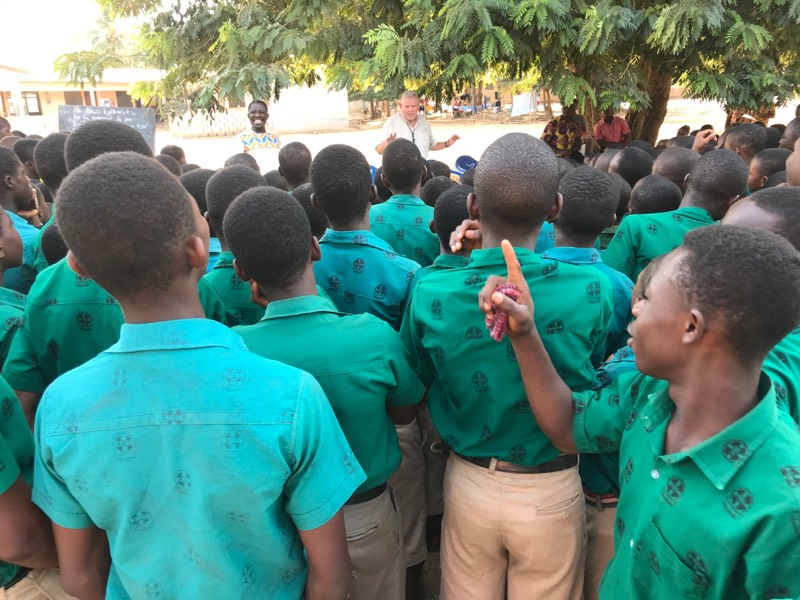 This has certainly been a projects of firsts.  Beginning yesterday and continuing through Thursday Jeff Andler has been tasked with the responsibility and opportunity to visit all the area Police Stations where he has met with and presented the Gospel to all the personnel in each station.  This is a wonderful opportunity since none of the Police are ever on hand for the cinema crusades or school assembly programs.  In addition to speaking with them, Jeff has been able to present each Police officer their own copy of the Bible.  
On Wednesday, at one Police station, one of the female officers, upon praying to receive Christ, shared with Jeff that she was a Muslim.  She told him that she had "prayed the daily prayers of her religion for years, but she had "never known for sure that she would go to Paradise" when she died.  She then said, as she received her Bible, "Today I feel like a burden has been lifted and I now know for sure that I will go to Heaven."  This is a glorious testimony to the Word and work of God through Jesus Christ.  We are so blessed to have this grand privilege.
On Tuesday some of our teams were refused entry into some of the local schools! In each case it has been the hard-heartedness of the overly proud administrators in each school. Even in one large Roman Catholic school our team was told, "we don't want you" – certainly a first in 17 years. I am happy to say that our Ghanaian team leaders handled these objections with tach and grace and guided the administrators to change their minds (and hopefully hearts). In that particular RC school our teams were invited to return for a large assembly program on Thursday night.
In other schools the students were involved in off-campus sports and we were told there was "no way" for our program to go on, but again our leaders were afforded the opportunity to display leadership and cause the schools to realize the importance of hearing the Gospel message. In one school a particularly firm and proud woman refused to come out of her office to meet with our team, but Jacob used this as a platform to go in and correct her for her rude and disrespectful attitude and told her that he was "going to tell everyone in town" of her actions. She quickly relented and said that she "by all means" wanted us to come. This was another reminded of the spiritual battles we face every day.
In one of the schools were I spoke to a very large crowd there was a sense of spiritual darkness and oppression over the entire place. One girl stumbled from her room, unable to walk or open her eyes was met by Ebenezer to listened to her explain to him that she thought she had an evil spirit in her. She testified to him that she was a Christian and he reminded her that "greater is He that is IN you, than he that is in the world." (1 John 4:4) He prayed for her and she was immediately able to open her eyes and walk into the assembly hall. So difficult was this place that the local pastor and school official asked if our team would return to that same place and show the Jesus film.
Thus far through this project we have been able to share in 119 ministry venues to an estimated combined audience of over 30,500 individuals. This continues to be a testimony to the faithfulness of God.